The Best Vegan BBQ Sauce (Gluten-Free)
An easy, healthy, and delicious Vegan BBQ Sauce. It is slightly spicy, subtly sweet and oh so TASTY!
This sauce is scrumptious. It is my new favorite condiment! It is packed with flavor, has both sweet & spicy tones and it can be used a gazillion different ways . . .
You can whip this up in only about ten minutes and be on your way to enhancing a myriad of different dishes! What is my favorite way to use this AMAZING BBQ Sauce? Here are some ideas:

- coat chickpeas before roasting
- add into your favorite vegetarian burgers, patties, and fritters
- coat veggies before roasting
- a dipping sauce for fries
- a condiment to accompany your favorite buddha bowls
- to make cauliflower wings
- etc., etc., etc.!

This Vegan BBQ Sauce is the BEST (in my opinion :)), and I cannot wait to hear what you think, too..
Enjoy. xo.
If you try this recipe please let me know! Leave a comment, rate it, share this post, use Pinterest's "tried it" feature, or take a photo, & tag me on Instagram and I'll share it! Thank you so much! <3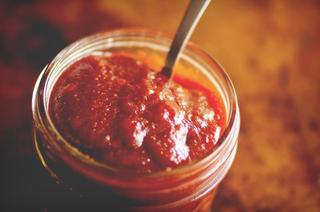 The Best Vegan BBQ Sauce (Gluten-Free)
Ridiculously tasty, healthy, and easy Vegan & Gluten-Free BBQ sauce!
Ingredients
3/4 cup

Ketchup (I use organic)

6 tbs

Coconut Sugar

3 tbs

Apple Cider Vinegar

1 tbs

Maple Syrup

1

Garlic Clove, minced

1 tsp

Paprika, ground

1 tsp

Garlic Powder

1/2 tsp

Black Pepper, ground

1/2 tsp

Red Chili Flakes

1/2 tsp

Sea Salt
Instructions
In a large bowl combine all ingredients. Whisk until smooth.
In a saucepan over high heat add your whisked sauce. Cover. Bring to a boil. Reduce heat to low.
Simmer for 10 minutes, or until desired consistency.
Let cool completely before storing or serving.
Store in a lidded container in the fridge for up to one week.
Enjoy!
Details
Prep time:
Cook time:
Total time:
Yield:

Approx. 1 cup barbecue sauce | 1/4 cup: