Strawberry Apple Polenta Crisp (Gluten-Free, Vegan Option)
A sweet & tart strawberry and apple crisp brought to life with a subtle polenta crunch! This tasty and healthy gluten-free & vegan fruit crisp is sure to please the senses!
With this delightful crisp, I bring you something a bit different. . .
. . . with my family on a bit of a fruit kick recently, I knew it was time for a crisp, but I found myself craving something other than your standard oat fruit crisp fare.
With a little experimentation, I discovered that the tart sweetness of apples and strawberries make for a match made in heaven when paired with a bit of polenta crunch!
If you've never had a crisp made with polenta before, you are most certainly in for a treat - it is beyond delish! Enjoy.

If you try this recipe please let me know! Leave a comment, rate it, share this post, use Pinterest's "tried it" feature, or take a photo, & tag me on Instagram and I'll share it! Thank you so much! <3
print recipe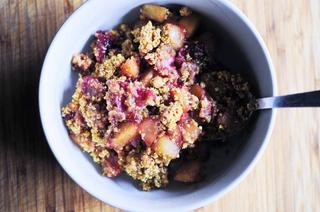 Strawberry Apple Polenta Crisp (Gluten-Free, Vegan Option)
by
Kristen Wood | MOON and spoon and yum
Jul-17-2017
A yummy sweet & tart gluten-free fruit crisp with a delightful polenta topping!
Ingredients
Filling:

1 lb

strawberries (approx. 3 cups), quartered

3

apples (any variety), peeled & finely chopped

2 tbs

coconut sugar

1 tbs

tapioca starch

1 tsp

apple cider vinegar

Topping:

1 cup

almond flour

1/2 cup

polenta (or grits/coarse cornmeal)

5 tbs butter

(or non-dairy spread for vegan option), room temperature

3 tbs

coconut sugar

1/2 tsp

ground cinnamon
Instructions
Preheat oven to 375°F.
In an 8" or 9" square or round baking dish combine all filling ingredients. Toss to coat. Set aside.
In a large mixing bowl combine all topping ingredients. Using your hands or a spatula, gently mix until you have a coarse sand like texture.
Evenly distribute your topping mixture over your filling mixture.
Bake for 35-40 minutes or until bubbling and turning golden.
Let cool a few minutes before serving. Enjoy!
Details
Prep time:
Cook time:
Total time:
Yield:

1 crisp
Sweets, Vegan
Kristen Wood
strawberry, apple, polenta, cornmeal, crisp, pie, baking, almond flour, dairy-free, soy-free, healthy dessert, refined sugar-free