Peanut Butter Cacao Nib Coconut Flour Cookies (Gluten-Free, Dairy-Free, Refined Sugar-Free)
Are you looking for an alternative to chocolate chip cookies? These peanut butter coconut flour cookies are easy, healthy, delicious, require just one bowl and make a perfect recipe for trying out cacao (cocoa) nibs! Gluten-free, Dairy-free, Refined sugar-free cookies that are perfectly chewy and oh so TASTY!
There is little to go wrong when combining peanut butter and chocolate; and these One Bowl Peanut Butter Cacao Nib Cookies are no exception.


Using coconut flour for a moist and chewy texture & beautiful crinkly appearance paired with a bit of chocolate crunch from a touch of cacao nibs instead of your standard chocolate chip fare, these amazingly easy and delicious gluten-free cookies will have you whipping up a second batch straight away (that's what I did!)!
These Delightfully Chewy Coconut Flour Cookies are:
Perfectly (not over the top) sweet.

Beautifully crinkly.

Super chewy.

Subtly crunchy from cacao nib bliss.

Easy to make with one bowl prep.

Free from: gluten, dairy, refined sugars.

Full of moist peanut butter flavor.

And, fun to make!
Tips for making perfect Peanut Butter Cookies with Coconut Flour and Cacao Nibs:
If desired, you can use smooth or chunky peanut butter or ANY nut or seed butter as a substitution for the peanut butter. However, I do suggest choosing minimally processed/without added sugar.

You can replace the coconut sugar with any granulated sweetener of your choice. On a sugar-free diet? This sugar-free monk fruit sweetener makes a great replace for granulated sugar.

Oil-free? You can omit the coconut oil or replace with butter or ghee, if you desire.

You can omit or replace the honey/maple syrup with a liquid sweetener of your choice. Or, if you are sugar-free, this monk fruit syrup makes a wonderful replacement.

Do not have or want to use cacao nibs? You can use any of your favorite chocolate chips or chopped chocolate instead.

These cookies store well in an air-tight container in the refrigerator for up to 5 days.

DO NOT skip the freezing step. This is what ensures that the cookies maintain shape while baking and results in the best texture. Alternatively, you can refrigerate the dough for at least 2 hours or up to 2 days before baking instead.
I cannot wait to get feedback on these delicious cookies from you, my lovely readers! Enjoy. xo.
If you try this recipe please let me know! Leave a comment, rate it, share this post, use Pinterest's "tried it" feature, or take a photo, & tag me on Instagram and I'll share it! Thank you so much! <3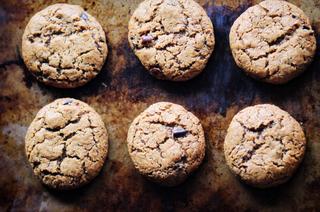 Peanut Butter Cacao Nib Coconut Flour Cookies (Gluten-Free, Dairy-Free, Refined Sugar-Free)
Easy, healthy, and delicious One Bowl Peanut Butter Cacao Nib Coconut Flour Cookies. Gluten-free, Dairy-free, Refined Sugar-free cookies that are perfectly chewy and oh so TASTY!
Ingredients
1/2 cup

creamy peanut butter

6 tbs

coconut sugar

2 tbs

coconut flour

1

egg, beaten

1 tbs

coconut oil

1 tbs

honey or maple syrup

1/2 tsp

vanilla extract

1/2 tsp

baking soda

1/4 tsp

sea salt

1/2 cup

cacao nibs (+ 3tbs for topping)
Instructions
In a large mixing bowl combines all ingredients except for cacao nibs. Mix until a smooth batter forms.
Fold in 1/2 cup cacao nibs.
Cover bowl and place in the freezer for 30 minutes.
Preheat oven to 350°F. Line a cookie sheet with parchment paper; set aside.
Using a tablespoon scoop out 12 rounded tablespoon portions of dough.
Roll into balls and place on your parchment lined cookie sheet.
Sprinkle with your 3 tbs cacao nibs.
Bake for 12-15 minutes or until bottoms and edges are just turning golden.
Remove from the oven and let cool completely before serving.
Enjoy!
Details
Prep time:
Cook time:
Total time:
Yield:

1 dozen cookies | 2 cookies:
NOTE: Please see 'Tips' above in the blog post for suitable substitutions, storage tips and more!