Gluten-Free Vegan Bread Recipe
An easy, healthy, and delicious gluten-free vegan bread perfect as is, for sandwiches, toast, etc. It's a family favorite and the BEST gluten-free vegan bread (in my opinion)!
For my first offering, I would like to share with you one of my staples...

This delightful bread is very much like gluten-full counterparts, and I find it is a great accompaniment to meals, as well as a great sandwich maker!
This Gluten-Free Vegan Bread is:
Easy to make.

Super flavorful and delicious.

Holds together and slices well.

Wonderful on its own, as a sandwich, toast, you name it!

Gluten-free, vegan, dairy-free, soy-free, nut-free.
Tips for making the best Gluten-Free Bread:
Be certain that your yeast is activated and very frothy at the ten-minute mark before using. If there isn't a reaction and it does not proof (become frothy) then begin the first step of the recipe again.

If you would prefer, you can use an egg instead of the flax seeds for very similar results. Simply omit the flax and add the egg when you add the oil.

Be certain to let the dough sit for at least one hour in a dark and warm place while it rises for best results.

This bread stores best in an air tight container kept at room temperature for up to around 5 days.
How to use my favorite Gluten-Free Vegan Bread:
If you try this recipe please let me know! Leave a comment, rate it, share this post, use Pinterest's "tried it" feature, or take a photo, & tag me on Instagram and I'll share it! Thank you so much! <3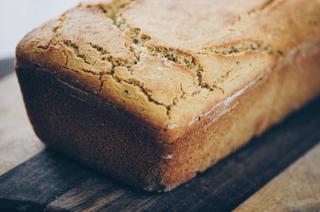 My Favorite Gluten-Free Bread (Vegan)
An easy, healthy, and delicious gluten-free vegan bread perfect as is, for sandwiches, toast, etc. It's a family favorite!
Ingredients
1 tablespoon

active dry yeast

1 1/2 cups

warm water

1 tablespoon

honey (or maple syrup, for vegan option)

1 cup

chickpea (garbanzo bean) flour

1 cup

brown rice flour

1 cup

all purpose gluten free flour blend

3 teaspoons

ground flax seed

1 teaspoon

salt

1 tablespoon

coconut sugar (or any granulated sugar)

1 teaspoon

crushed fresh rosemary (optional)

1 teaspoon

garlic powder (optional)

1 tablespoon

coconut oil (melted)
Instructions
Add the yeast to one cup of warm water. Add honey, mix, and let sit for 10 minutes or until the yeast mixture is frothy.
In a large mixing bowl, combine the flour, flax seed, salt, sugar & optional spices. Mix well.
Add the oil & the yeast mixture to the dry ingredients.
Add the remaining 1/2 cup of warm water. Mix until you have a sticky dough
Grease your loaf pan & dust it with some flour. Transfer your dough into your loaf pan. Cover with a damp towel and keep in a warm place for about 1 hour or until it doubles in size.
Preheat the oven to 400° F.
Bake the bread for 35 minutes, or until golden brown & firm.
Remove from the oven, let sit in loaf pan for 10 minutes & then transfer onto a cooling rack.
Allow to cool completely before slicing.
Enjoy!
Details
Prep time:
Cook time:
Total time:
Yield:

1 loaf/8 slices | 1 slice: