Instant Pot Sticky Maple Ginger Rice Noodles (Gluten-Free, Vegan)
Super easy, tasty and healthy Instant Pot Sticky Maple Ginger Rice Noodles. This pressure cooker dish can be ready to enjoy in only about 10 minutes! This delicious noodle recipe is gluten-free, vegan and positively bursting with flavor.
This delicious sticky noodle meal was inspired my new favorite rice pasta by Perfect Earth Foods. Perfect Earth Foods is an amazing company that produces organic non-GMO gluten-free vegan rice and chia seed noodles. They are committed to making high-quality allergen-free products, greatly supporting the farmers in Thailand who help to create their pasta ingredients, and limiting their impact on the environment. They are simply top notch all the way around.
Now onto this easy peasy Instant Pot noodle dish . . .
We simply adore rice noodles in this family and when I first started experimenting with them in the Instant Pot I was absolutely amazed at how easy it was and how perfectly cooked they would become. I set out to make a sticky noodle dish with a well loved flavor combo of mine: maple & ginger. If you've never quite had this combo before than you are in for a treat! 'Tis heavenly. . .
These Instant Pot Sticky Maple Ginger Rice Noodles are:
fast and easy to make

budget friendly

made with simple ingredients like coconut oil, maple syrup, apple cider vinegar

gluten-free, vegan, dairy-free, soy-free, nut-free, refined sugar-free

great served on their own or alongside some steamed or roasted veggies, and/or protein of choice

slightly spicy, slightly sweet and ADDICTIVELY tasty

great served hot or cold
How to Cook Rice Noodles in the Instant Pot:
Place 8 ounces of rice noodles into the Instant Pot.

Cover with 2 cups of water.

Cook on manual high pressure for 3 minutes.

Quick release pressure, stir and enjoy!
Tips for making Instant Pot Sticky Noodles:
This recipe works well with a wide variety of rice noodles. I'm fond of brown rice chia noodles, but white rice noodles work well, too. Just keep in mind that the texture will vary slightly dependent upon which noodles you use. Similar to rice, I find brown rice noodles to be a bit firmer than white rice noodles.

You can use honey instead of maple syrup.

For a sugar-free version, I recommend this liquid sweetener.

The sriracha or hot sauce can be omitted in a pinch, it just adds a little something extra to round it all out!

These noodles store well in an airtight container in the refrigerator up to one week. To re-heat, place into the pressure cooker with 1 teaspoon coconut oil and press the saute button. Saute while stirring constantly until warmed throughout. Alternatively, you can heat in saucepan over medium heat with 1 teaspoon of coconut oil, stirring until warm.
What to Serve with Instant Pot Noodles
All in all this is one simple and delicious Instant Pot dish that can be enjoyed a variety of ways and satisfies a variety of diets. It's a fave around here, especially when we crave some comfort food QUICK! I hope you enjoy it, and as always I look forward to your feedback! xo.
If you try this recipe please let me know! Leave a comment, rate it, share this post, use Pinterest's "tried it" feature, or take a photo, & tag me on Instagram and I'll share it! Thank you so much! <3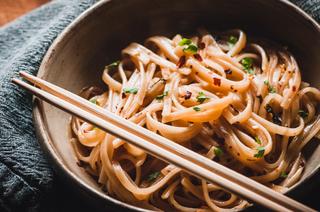 Instant Pot Sticky Maple Ginger Rice Noodles (Gluten-Free, Vegan)
Quick and easy Sticky Maple Ginger Noodles made in a pressure cooker! Slightly spicy, slightly sweet, gluten-free & vegan.
Ingredients
1 8 oz package

rice noodles of choice (I like brown rice chia)

4 tablespoons

maple syrup

2 tablespoons

coconut oil

2 tablespoons

apple cider vinegar

1 tablespoon

sriracha (or hot sauce of choice)

1/2 teaspoon

ground ginger

1/4 teaspoon

garlic powder

1/4 teaspoon

sea salt

2 cups

water

1/4 cup

chopped fresh cilantro (optional)
Instructions
Combine all of the above ingredients into the Instant Pot.
Manual cook high pressure for 3 minutes.
Quick release pressure.
Give it a stir and serve on its own (it's great as is!) or alongside vegetables, tofu, etc. Optionally drizzle with sriracha or coconut aminos for an extra flavor kick!
Enjoy.
Details
Prep time:
Cook time:
Total time:
Yield:

4 servings | 1 serving: