Double Blue Peppermint Moon Milk (Vegan & Gluten-Free)
This gluten-free & vegan Double Blue Peppermint Moon Milk makes for one soothing & delicious antioxidant-rich brew perfect for those stressful days and sleepless nights! This healthy Mint Blueberry Moon Milk is made doubly blue with the addition of blue butterfly pea flower powder!

Some of you may have caught on to my love of colorful beverages by now . . .
This Double Blue Peppermint Moon Milk is no exception! This delicious and vibrant brew was wholly inspired by my first voyage into Blue Butterfly Pea Flower Powder land (thank you, Suncore Foods!). Holy moly is this stuff amazing.
Just look at that beautiful color! And the best part? Blue Butterfly Pea Flowers (Clitoria ternatea) are packed with antioxidants, stress-relieving properties, and anti-inflammatory effects. What's not to love?
Throw in some cooling and calming peppermint, magnesium-rich (sleep promoting!) sunflower seeds, and vitamin c and antioxidant-rich blueberries and you have yourself one doubly blue brew that is wholly magical and delicious.
This Blue Moon Milk is:
Packed with healthy nutrient dense ingredients.

Sleep promoting.

Stress reducing.

Anti-aging, anti-inflammatory.

Soothing, calming, relaxing.

Super flavorful.

Creamy and satisfying.

Gluten-free, dairy-free, vegan, nut-free, soy-free, refined sugar-free.
I truly hope you enjoy my take on this nighttime beverage with its roots in Ayurveda; and give the amazing Blue Butterfly Pea Flower Powder a spin yourself!

Enjoy. xo.
If you try this recipe please let me know! Leave a comment, rate it, share this post, use Pinterest's "tried it" feature, or take a photo, & tag me on Instagram and I'll share it! Thank you so much! <3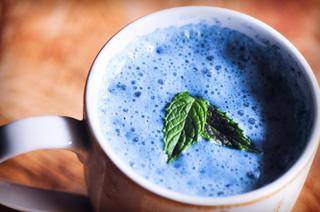 Double Blue Peppermint Moon Milk (Vegan & Gluten-Free)
A soothing, antioxidant-rich, delicious, and comforting Double Blue Peppermint Moon Milk. A relaxing gluten-free vegan brew for stressful days and sleepless nights.
Ingredients
2 cups

almond or oat milk

1/4 cup

fresh or frozen blueberries

2 tablespoons

raw sunflower seeds

1 tablespoon

blue butterfly pea flower powder

1 teaspoon

unrefined coconut oil

1/4 teaspoon

peppermint extract

1/8 teaspoon

pink himalayan or sea salt

2 tablespoons

maple syrup (or liquid sweetener of choice)

optionally, to garnish:

fresh mint leaves
Instructions
To a blender add all of the above ingredients sans maple syrup and mint leaves.
Blend until smooth and uniform.
Optionally strain mixture through a fine mesh strainer or nut milk bag. (I do not do this as I don't mind any larger bits of berries or seeds settling in the bottom of my cup)
Heat your moon milk mixture over low-medium heat on the stove-top. Stir in maple syrup or sweetener of choice. Whisk gently until foamy and heated throughout.
Pour into mug(s) and optionally garnish with fresh mint leaves.
Enjoy!
Details
Prep time:
Cook time:
Total time:
Yield:

2 servings | 1 serving:
Looking For More Moon Milk Goodness? Check this out.