Cookbook Review Series 02: The Veginner's Cookbook by Bianca Haun and Sascha Naderer + Life-Changing Frozen Chocolate + A Giveaway
The Veginner's Cookbook -- The Ultimate Starter Guide for New Vegans and The Veg-Curious by Bianca Haun & Sascha Naderer of Elephantastic Vegan is an incredibly beautiful and approachable read. I'm honored to provide a review as well as a full recipe from the book for a 3-ingredient Life-Changing Frozen Chocolate + GIVEAWAY a free copy of this marvelous cookbook to one lucky reader! *GIVEAWAY CLOSED*
The Veginner's Cookbook - The Ultimate Starter Guide for New Vegans and The Veg-Curious by Bianca Haun & Sascha Naderer of Elephantastic Vegan . . .
Where do I start with this beautiful book?? Bianca and Sascha take you on a wonderful journey as they share their own experiences with adopting vegan diets, their favorite essential vegan pantry staples, wonderfully informative kitchen hacks, and they provide you with 75+ recipes that cover the gamut of sweet, savory and everything in-between. And, what's a constant? ALL recipes are easy, approachable, plant-based, and DELICIOUS. I can attest!

I had an immense amount of trouble choosing a recipe to sample because they all look so tasty, but eventually I settled on trying their Life-Changing Frozen Chocolate. I mean, if I see "Life-Changing" how can I not try it?!

But first . . .

Here's a beautiful sample of the deliciousness that can be found inside The Veginner's Coobook:
(Images & Recipes Copyright 2018 by Bianca Haun and Sascha Naderer; Reprinted with permissions)
And that chocolate? It is LIFE-CHANGING...
We love our chocolate in this household and already have a habit of storing bars in the freezer and tearing into them while still frozen (who can wait?), so when I saw frozen and chocolate in the same title, they certainly had me intrigued!
What did I discover? This amazing recipe rivals all store-bought chocolate bars that I store in the freezer! I mean, I really could not tell the difference between this Life-Changing Frozen Chocolate and my favorite dark chocolate bars. That's a win in my book!
This chocolate is:
Smooth
Creamy
Has just the right amount of dark chocolate flavor
Is EASY to make
Healthy
And, FUN!
I really cannot recommend this cookbook enough. Whether you are vegan, or simply want to incorporate more plant-based dishes into your diet, this book has something for everyone! We know we will be returning to it again & again.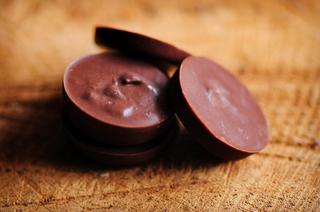 Life-Changing Frozen Chocolate
An easy, healthy, and delicious 3 ingredient vegan chocolate!
Ingredients
2 tbs

coconut oil

2 tbs

maple syrup

3 tbs

cocoa powder
Instructions
Heat the coconut oil in a small pot until liquified. Then, take the pot off the stove and add in the maple syrup. Whisk it together.
Add in the cocoa powder and whisk again until everything comes together and the mixture is nice and smooth.
Fill the chocolate in molds and put in the freezer for at least 6 hours or overnight. Make sure to store them in the freezer -- they melt pretty quickly!
Details
Prep time:
Cook time:
Total time:
Yield:

approx. 10 chocolate pieces