Banana-Ginger-Cardamom Muffins (Gluten Free)
With a delicious blend of banana, ginger, and cardamom flavors, these Gluten-Free muffins make a great breakfast, grab & go snack or healthy treat!
These deliciously moist & fluffy muffins allow just the perfect subtly of the star flavors to shine through.

With no refined sugars or overt sweetness, these muffins make a great grab & go breakfast or afternoon accompaniment to tea...
If you try this recipe please let me know! Leave a comment, rate it, share this post, use Pinterest's "tried it" feature, or take a photo, & tag me on Instagram and I'll share it! Thank you so much! <3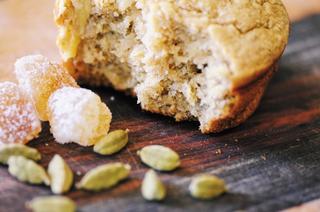 Banana Ginger Cardamom Muffins (Gluten-Free)
Easy, healthy, fluffy and delicious Gluten-Free Muffins with warm and comforting banana, ginger, and cardamom flavors.
Ingredients
1 1/2 cups

all purpose gluten free flour

4 tbs

coconut flour

1 tsp

baking soda

1/4 tsp

salt

1/4 tsp

whole cardamom (I used the contents of 2 pods)

1/4 tsp

ground cloves

2 tbs

crystallized ginger, chopped (approx. 6 cubes, I used honey-crystallized ginger)

2

ripe bananas, mashed

2

eggs, beaten

2 tsp

vanilla extract

1/3 cup

honey

1/2 cup

almond milk (any milk will do)

1/2 cup

yogurt, plain (I used Greek)
Instructions
Preheat oven to 350°F. Grease a muffin tin (I used coconut oil), set aside.
In a large mixing bowl, sift dry ingredients together.
In another mixing bowl, combine your wet ingredients & mix well.
Slowly stir your dry ingredients into your wet ingredients until uniformly combined.
Pour into your greased muffin tin.
Bake for 25-30 minutes or until a toothpick inserted into the center of a muffin comes out clean.
Prepare a favorite beverage, and enjoy!
Details
Prep time:
Cook time:
Total time:
Yield:

6 large muffins or 12 standard muffins